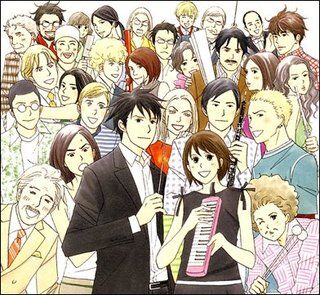 Welcome to the Nodame Cantabile Wiki
We are currently editing over 37 articles, and 91 files.
Nodame Cantabile is a comedy, romance, and slice of life manga series written by Tomoko Ninamaya and centers itself around a conservatory for classical music. The series quickly gained popularity and was soon adapted into both a live-action and anime television show (and even a Korean Drama titled "Cantabile Tomorrow"). The plot centers around the everyday life of the young and serious virtuosic piano major and conductor Shinichi Chiaki and his care free and bubbly neighbor/lover/fellow pianist Noda Megumi
With its wide range of colorful characters spanning from a sketchy maestro to a timpanist who shares Noda's obsession with Chiaki, Ninamaya is able to capture the true spirit of an (exaggerated) life in a prestigious Japanese Music conservatory.
Quick Links
[
]
Media: Anime, Manga and Live Action Drama
Animerice 07:14, December 2, 2010 (UTC) Anime Rice ♥
Latest activity
[
]